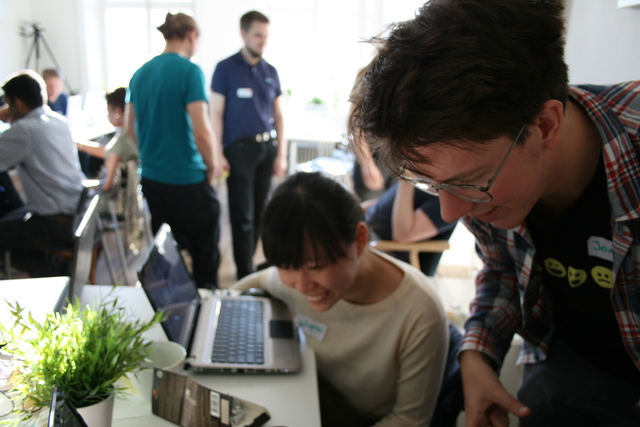 OpenTechSchool is a community initiative offering free programming workshops and meet-ups to technology enthusiasts of all genders, backgrounds and experience levels. It supports volunteer coaches in setting up the events taking care of the organizational details and encouraging them to create original teaching material, to be then shared with the online community. OTS wants to create a friendly learning environment where no one feels shy about asking any question, offer learners the chance to feel empowered with new skills and encourage an always rising number of women to join and enjoy tech in all its shapes.
The movement has been founded in Berlin a few months ago and now is already active with its first chapter abroad – in Stockholm! Everyone is invited to participate, whether as a coach or a learner and we're very happy to invite you to our two upcoming events in town! (Please remember to RSVP on the event page!)
OTS Workshop: Social Coding with GitHub
Saturday, November 10th, 13:00 – 17:00 @ Wrapp HQ
This workshop will introduce you to GitHub, a free online service where over 2 million developers from around the world share their code. Whether you just want to share a little script, connect with fellow programmers or contribute to some of the largest and most dynamic software projects in the world, you'll learn how to get started! This course requires no previous knowledge of Git and is suitable for beginners of any programming language. No programming will be required during the course, but feel free to bring along your code for sharingon GitHub. Please remember to bring your own laptop.
Learners Meetup #1
Wednesday, November 14th, 18:30 – 21:00 @ The HUB Stockholm
TALKS
Arduino My Friend – with the fantastic GeekGirl Ellen Sundh
Smooth lists with List.js – with JavaScript hacker Jonny Strömberg
LEARN'N'TELL
Inspired by NY and Berlin's wonderful Hack'n'Tell, this is a chance for you to share with others what you have learned, what code you have written, some questions you have (there are no dumb questions!) or something you are stuck on. Feel free to bring your laptop to show stuff!
Plus: free drinks, techie chats and geek fun!
RSVP, get your power cord and don't forget to join OTS Stockholm's Meetup page to be updated on all the new upcoming events in town!